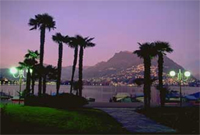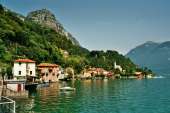 Lugano

Route: Menaggio - Porlezza - Lugano 27 km.

By Bus: Menaggio - Lugano line C12

Lugano is situated in canton Ticino in Switzerland and is a famous holiday resort. The road from Menaggio to Lugano leads through the Val Menaggio which connects Lake Como with Lake Lugano. In the valley lies the little lake Piano, a protected natural oasis; it is worth while to have a short stop at the "Casa della Riserva" with its small eco museum; from its veranda there is a lovely view on the little lake. You soon reach Porlezza, where every Saturday a nice market is held on the lake side promenade. The road continues along the lake side of Lugano, also called Ceresio. After having passed the border at Oria Valsolda, you soon arrive at Lugano. Lugano lies in a bay on the northern side of Lake Lugano, surrounded by numerous mountains offering splendid viewpoints. The town centre with its Mediterranean-style squares and arcades, and numerous parks with sub-tropical plants such as the Parco Civico on the shores of the lake invite you to stroll around. By the lakeside promenade are the Belvedere Gardens, where the parkland boasts not only camellias and magnolias but also modern works of art. In the Museo Cantonale d'Arte are paintings by Klee, Jawlensky, Renoir and Degas, among others and Villa Malpensata offers interesting art exhibitions. In the last 50 years, the Ticino region, and Lugano in particular, have developed into an important region for architecture. The most well-known representatives of the "Ticino School" are Luigi Snozzi and Mario Botta. Botta's Banca del Gottardo (Viale Franscini), the Palazzo Ransila (Via Pretorio) and his own workshop on the Via Ciani are good examples. The two closest mountains to Lugano, Monte San Salvatore and Monte Brè which you can reach by funicular, give you an outstanding panorama of the town, Lake Lugano and the alpine scenery. Sightseeing at Lugano: Ciani Park, frescos of the church S.Maria degli Angeli, art exhibitions at Villa Malpensata or Villa Ciani, shopping in the famous Via Nassa. An excursion by funicular to the top of Monte Bré or San Salvatore is highly recommended.